Buy the Books
Are you a student? The parent of a student?
A professional who works with students? You need these books
Discounts available for schools & PTOs
College Smart® and Start College Smart®
Headed for college? Already there?
Every page is filled with practical, practical, practical advice to help you succeed — in school and in life. You'll learn things you've never thought of before. Watch how they all come together. College Smart® books will change your future! It's never too late to use these books.
High school teacher or counselor?
If students use what's in these books, you'll have better students and livelier classrooms! College Smart® students learn a formula for success that begins to show results early on.
College advisor?
These strategies go to the very heart of academic advising. Use the College Smart® book with your students to create productive conversations. With everyone on the "same page," things get done. Anyone in an advising role needs these books.
College Smart® Practical Tips for Parents
Parents: Give your students the know-how to succeed in school and life.
Learn many everyday ways to help your student become College Smart®. Watch the Strategies mature as your child does. College Smart® Strategies teach know-how that will last a life-time!
Researchers say that students should begin as early as middle school. FYI: Ninth grade is pivotal.
Not only are you giving your child an edge, you'll save thousands in extra tuition. Start early and your child can compete for college scholarships and grants.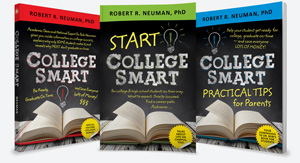 College Smart® Collection
Get an introductory discount — all 3 books for $33.33! Take advantage of this offer while it lasts!
A $42.84 value!
When you order, add your discount code for each book.
College Smart – Code: 53G9GDX4
Start College Smart – Code: FE24LPE8
College Smart Practical Tips for Parents – Code: FE24LPE8